More About Cape Dory Boats
Disclaimer: The CDSOA is a private voluntary social club. The CDSOA and this Web site are not associated with and do not represent Cape Dory Yachts, which is a division of Newport Shipyards Corp., nor any of the other businesses or individuals mentioned herein. The information below was based on a number of conversations with various people, and was correct to the best of my knowledge as of August 1995. If you have more accurate or more current information, please email me.
Note: See also the February 1997 update to the information below.
Founded in 1963, Cape Dory Yachts soon earned a reputation for building solid, seaworthy New England sailboats. In the late 70's, they expanded into powerboats, starting with a commercial dragger and a lobsterboat, then branching out into poweryachts.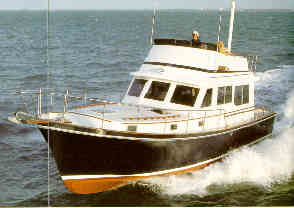 Unfortunately, the original Cape Dory Yachts was among the victims of the 1990 recession, and the name and most of the molds were sold. Fortunately, there are now three boat builders producing boats using those molds. So, while a pessimist might say the Cape Dory line has been scattered, a more cheerful view is that Cape Dorys have gone from being orphan boats to being supported by not one but three manufacturers: Newport Shipyards, Robinhood Boatbuilders, and Nauset Marine.
The Cape Dory name and many of the molds were purchased by Newport Shipyards in Amityville, N.Y. Newport has delivered at least 4 Cape Dory 40 power yachts (photo right, © Allan Weitz), most in the Northeast, although one is in Puget Sound. Newport also advertises the popular 28 foot powerboat in open, enclosed and flybridge configurations. (Newport has reportedly ceased operations; see update.)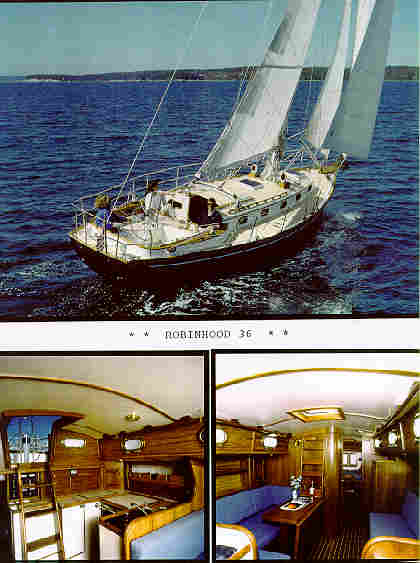 Happily, Cape Dory's founder, Andy Vavolotis, once again owns the molds for his 36 and 40 foot sailboats, and is producing the former as the Robinhood 36 (photos left). According to Robinhood broker Dave Perry, hull #2 was scheduled for display at the 1995 Newport, R.I. boat show. In 1995, Joe Bonitch posted the following report on the rec.boats newsgroup:
" After noticing [a] discussion [on rec.boats] about Robinhood Marine building boats from the [old] Cape Dory molds, I was quite surprised to see the first Robinhood 36 over the weekend. Legacy is actually hull #200. The owner told me that Cape Dory built less than 150 36's, and Robinhood decided to start numbering theirs at 200.
" Legacy was launched late last week at Sill's marina in Sodus Point, N.Y. on Lake Ontario. The hull is navy blue, and the deck is white with tan non-skid. She is outfitted in Harken gear, right down to the bronze self-tailing winches. Harken attended the sea trials in Maine, and provided some gorgeous female crew (according to the owner) and took photos to be used in future Harken ads.
" I was standing beside Legacy on the dock when the owner popped up and invited my wife and I aboard. She promptly told us to take our time looking around and to make sure we didn't miss anything.
" One thing I can safely say about this boat is that it's all business. They definitely stuck to the KISS methodology. There is no clutter on deck. The only lines led back on the cabin top are the main and staysail sheets. Below decks is the same - no clutter, very functional, and incredible woodwork."
Quite a few former Cape Dory molds are now at
Nauset Marine
, a custom boat builder on Cape Cod. Founded in 1961, Nauset is "a family owned business, and we're here for the long run," according to Nauset Vice President Dawson Farber.
Nauset builds from these molds under the Nauset C/D name. They have the molds for the 30, 33 and 42 foot powerboats, the 30 foot motorsailer, and the 19, 22 30 and 33 foot sailboats. Since they are a custom yard, they will build boats on order only; they have no dealers and their only stock is a couple of boats used for boat show display around the Northeast.
Thus far, Nauset has delivered three Nauset 42' Powerboats built from former Cape Dory molds. The three were configured as a lobsterboat, a charter fishboat, and a custom yacht. In August 1995 they were just starting hull #1 of the 33' powerboat, available in three configurations: hardtop cruiser, flybridge, and with an extended step-up bridge deck.
In the sail fleet, Nauset is building the 19' and 22' Typhoons.
Dawson had hoped to start his C/D line earlier, but had a "sensational year" with the old Nauset line. The line represents about a third of his available styles. Over the winter he hopes to begin production of the C/D 30' Motorsailer, as well as a 30' single engine version of the 33' powerboat.
Owners of existing Cape Dorys have some hope of support from all these builders. Newport provided a letter from an 'old' Cape Dory owner thanking them for furnishing some parts. Spartan Marine, makers of most of the metal forgings used on Cape Dorys, is still in business in Robinhood, Maine. And Nauset is using different fittings in its new boats, but can duplicate molded fiberglass parts if necessary.
Hobby Marine currently has the molds for the CD 300 Motorsailer and are building it as the Cape 300 Motor Sailer. They can be contacted at: P.O. Box 220, Pollocksville, NC 28573. Phone: (252) 224-1600.

Where to find them:
Robinhood Boatbuilders (Andy Vavolotis)
Dave Perry, Yacht Broker
Robinhood Marine Center
Robinhood, ME 04530
(800) 255-5206

Nauset Marine
Dawson Farber, V.P.
Route 6A
P.O. Box 357
Orleans, MA 02653
(508) 255-0777

Spartan Marine
Robinhood Marine Center
Robinhood, ME 04530
(800) 325-3287
Photo ©1992 Allan Weitz (908) 572-5301. Used by permission.