For CDSOA Members Only
Our Newsletter: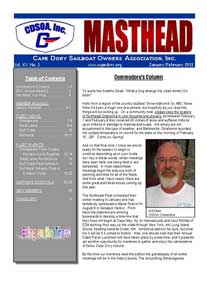 The CDSOA, Inc. publishes the continually updated online newsletter, MASTHEAD, containing information about Fleet activities including rendezvous, cruises, float-ins and meetings; members' experiences while sailing their boats; cruise and destination information; boat projects and improvements; new benefits and discount information; new Chandlery items; boating news; tips on using our online message board; and members' tales. For a sample of our old newletter format, CLICK HERE, or on the thumbnail to the right, to view the first 6 pages only of the Jan./Feb. 2006 issue (PDF 500 KB). Our current online-only "blog" format is accessible to CDSOA members only.
**NOTE: Adobe Acrobat Reader must be installed on your computer in order to download and open PDF files. If you don't have the latest version of Adobe Acrobat Reader, download it, free of charge, from Adobe's website.