Specifications: Cape Dory 45
Disclaimer: The CDSOA is a private voluntary social club. The CDSOA and this Web site are not associated with and do not represent Cape Dory Yachts, which is a division of Newport Shipyards Corp., nor any other yacht builder.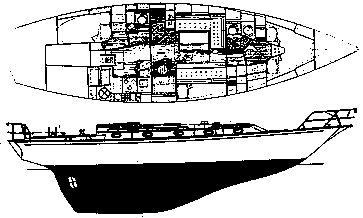 Specifications
L.O.D.:
45' 3"
L.W.L.:
33' 6"
Beam:
13' 0"
Draft:
6' 3"
Displacement:
24,000 lbs.
Ballast:
9,400 lbs
Sail Area:
Ketch 936 sq. ft.
Cutter 882 sq. ft.
Designer:
Carl Alberg
Mast above W.L.:
53' 6"
Years Built
1982 - 1985
Nr. Built
3
The new CD45 is the ultimate Cape Dory yacht — a magnificent live-aboard passagemaker from Carl Alberg. The traditional design with modern sailplan will meet the demand for a "full-keel" American made cruiser that sails well, handles easily, and offers spacious accommodations.
The roomy interior takes full advantage of the boat's long waterline and 13' beam. Particular attention is paid to the requirements of extended passagemaking, including a private aft stateroom with its own lavette and shower, a full navigation station, 200 gallon water capacity, and 100 gallon fuel supply. Ample space is provided to accommodate special owner options.
The 45 reflects superior craftsmanship and attention to detail in an affordable production boat of custom boat quality.

Text and specifications based on a Cape Dory brochure for the 1985 model year. Additional information is always welcome. Email webmaster@capedory.org.