Specifications: Cape Dory 33 Poweryacht
Disclaimer: The CDSOA is a private voluntary social club. The CDSOA and this Web site are not associated with and do not represent Cape Dory Yachts, which is a division of Newport Shipyards Corp., nor any other yacht builder.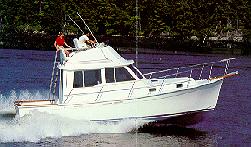 Specifications
LOD:
32" 10"
LWL:
30' 0"
Beam:
12' 2"
Draft:
2' 11"
Displacement:
13,500 lbs.
(dry wgt. approx.)
Engines:
200-275 hp.
(gas or diesel)
Height above waterline:
12' 8"
Fuel:
260 gal.
Water:
90 gal.
Berths:
4
Headroom: Salon
Foc'sle:
6' 6"
6' 3"
Cockpit area:
65 sq. ft.
Designer:
Clive M. Dent, N.A.
Cruising speed:
18-20 knots
Years Built:
1988 - 1990
Nr. Built:
22
(The following enthusiastic text is from a 1988 Cape Dory brochure:)
Introducing the Cape Dory 33 PowerYacht:

After building over 200 poweryachts, Cape Dory now offers its latest model. The design was penned by our full-time, in-house, naval architect, Clive Dent. Sea trials have proven her worth to us. An easy-to-arrange demonstration ride will prove her to you, too!
Design philosophy
The Cape Dory 33 is designed to be a family cruising poweryacht. That's why she sports a full keel to protect the running gear from the inevitable grounding she'll have to endure. That's why she has a wide transom door for boarding your family safely and easily. That's why she has full-length side deck rails and wide walkways. And that's why she'll cruise you at 18 to 20 knots as easily as she'll cruise you at trawler type displacement speeds.
Cruising philosophy
When cruising you need to be close to the water. That's why we have a large aft cockpit. Close to the swimming or close to the fishing. And while in port there is room to lounge in the cockpit. You don't have to be perched on top of a cabin. When underway you command her from a spacious flybridge with 360° visibility and room for your family, too! All instruments are readily at hand. If you want, we'll add a second helm. Below, there is an family-sized salon featuring an "L" shaped settee and a hi-low table. Plenty of opening windows, superb views, gentle fabrics. Two steps down and you're in the galley with its 2-burner stove, refrigerator, double sink, and teak parquet sole. To starboard is a very spacious head with separate shower/stall. Forward there's a large private owner's stateroom complete with hanging ocker and built-in bureau. All finished in richly appointed teak joinerwork by Cape Dory's famous craftsmen.
The cruising answer
The Cape Dory 33 PowerYacht is another example of our winning combination of legendary quality and cruising philosophy.

Newport Shipyards of Bristol, RI acquired the Cape Dory name and the molds for the Cape Dory motoryachts (except the 30-footer), the CD300 Motorsailer, and the CD30MKII, CD330, CD36 and custom CD40 sailboats around 1991. CLICK HERE to view the 1991 sales brochure from Newport Shipyards. Robinhood Marine now builds this lovely vessel, under license, as the Robinhood 33.
Text and specifications based on a Cape Dory brochure from around 1988. Additional information is always welcome. Email webmaster@capedory.org.