Specifications: Cape Dory 30 Poweryacht
Disclaimer: The CDSOA is a private voluntary social club. The CDSOA and this Web site are not associated with and do not represent Cape Dory Yachts, which is a division of Newport Shipyards Corp., nor any other yacht builder.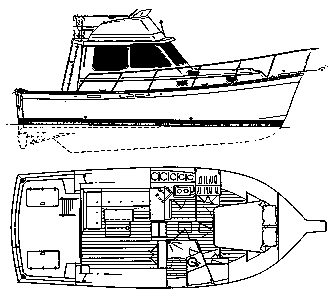 Specifications
L.O.A.:
32' 0"
L.O. D.:
30' 3"
Beam:
12' 0"
Draft:
2' 10 "
Displacement:
12,800 lbs. (diesel)
Headroom (salon):
6' 4"
Headroom (foc'sle):
6' 1"
Fuel:
220 gals.
Water:
62 gals.
Power:
2x275-hp. Chrysler V-8 gas
2x200-bhp Volvo turbodiesel
Sleeps:
4
Deadrise angle:
Forefoot 49 deg.
Midship 18 deg.
Transom 13 deg.
Cruising speed:
18 - 20 knots
Designer:
Clive M. Dent
Years Built
1989 - 1990
Nr. Built
15
(The following enthusiastic text is from a Cape Dory brochure:)
Our knowledge of the sea can be measured by the quality and caliber of the boats we build. The new Cape Dory 30 PowerYacht is no exception. We bring over a quarter century of experience building boats of unparalleled ruggedness and the peerless design skill of Cape Dory's naval architect, Clive Dent, to the newest member of our PowerYacht family.
Ease of handling. Rugged construction. Unsurpassed seaworthiness. These are the fundamental qualities that make the Cape Dory 30 one of the finest engineered craft on the seas today. Her classic moderate deadrise hard chine hull design incorporates a substantial full keel to protect twin props, shafts and rudders from unexpected groundings. The full keel also provides extremely accurate helm control in tight maneuvering situations, the ability to track a dead-straight course in unfriendly seas and maintain an even keel during the tightest of turns. Power supplied by twin gas or turbo after cooled diesel engines efficiently take her to a swift yet easy to handle 20 knot cruising speed. And with large capacity fuel tanks, you can reach your favorite long range destinations economically and in no time at all. Her one piece, solid fiberglass bottom means enduring structural integrity. It takes more time to build a boat to our high strength, heavy duty specifications, but it's worth it.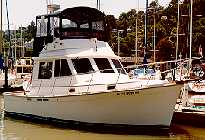 The Cape Dory 30 PowerYacht can accommodate all members of the family with salon headroom of 6'-4" and a spacious cockpit of 62 square feet. Safety features abound. Molded-in steps lead you from the cockpit to the Cape Dory 30's noticeably wide side decks with full length hand rails. Your family moves safely and easily between the cockpit and the bow. Teak coverboards surround the cockpit. Molded-in bulwarks and effective non-skid gelcoat add to safe footing. From the modern flybridge, you command over a functionally designed console, featuring hydraulic steering, dual level engine controls, easy to read engine gauges and well placed switch panels. The helm and companion pedestal seats forward, and bench seat aft, provides plenty of room for the whole crew.
With 360 degrees of unobstructed visibility, you can keep track of your course, or your companions on deck at a glance.
The Cape Dory 30 PowerYacht boasts a bright and airy main salon surrounded by windows and appointed in solid teak joinery meticulously hand finished by the famous craftsmen of Cape Dory. The family-sized salon has an L-shaped settee that converts to a double berth, a hi-low table, and is tastefully decorated with elegant fabrics. Forward, the private owner's stateroom features a luxurious walkaround island double berth and plenty of storage. The dressing table to starboard will allow you to prepare for even the most formal of evenings aboard or ashore.
Portside forward of the salon you will find the extremely functional L-shaped galley, with deep stainless steel sink, two burner stove with cutting board, under counter refrigerator, sizeable dish locker, eye level food lockers and roomy utensil drawers. To starboard of the galley is the enclosed head compartment. The innovative use of space provides features usually only associated with larger yachts. Electric flush toilet, teak shower seat plenty of storage space and an elegant combination sink and shower faucet. With the addition of available options such as a generator, microwave oven, air conditioning, and heating, your Cape Dory 30 can be built to your own exacting specifications, to suit your cruising needs. The Cape Dory 30 is every inch the proper cruising PowerYacht.

Last modified May 23, 1997. Text and specifications based on a Cape Dory brochure believed to be from around 1989. Additional information is always welcome. Email webmaster@capedory.org.