Specifications: Cape Dory 30MkII
Disclaimer: The CDSOA is a private voluntary social club. The CDSOA and this Web site are not associated with and do not represent Cape Dory Yachts, which is a division of Newport Shipyards Corp., nor any other yacht builder.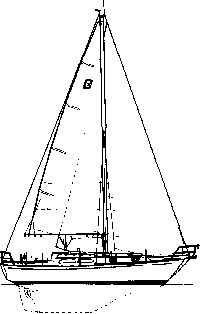 Specifications

| | |
| --- | --- |
| L.O.D.: | 30' 6" |
| L.W.L.: | 24' 2" |
| Beam: | 10' 6" |
| Draft: | 4' 6" |
| Displacement: | 10,500 lbs. |
| Ballast: | 4,200 lbs |
| Sail Area: | 495 sq. ft. |
| Designer: | Clive M. Dent |
| Years Built | 1987 - 1990 |
| Nr. Built | 31 |

New for '87:
Like its predecessor, the Cape Dory 30, the new
30MkII
will have a "full-keel" profile and will be characterized by high quality construction and a generous use of teak and bronze. However, this is where the comparison ends . . .
The new CD30MkIIs generous beam (10'6") will provide approximately 30% more living space than in the old CD30 models. She will accommodate a family of six comfortably with two private cabins. Such comforts and luxuries as a 'U shaped galley, and a large head with a separate, sit-down shower stall, are among the features incorporated into the new CD30MkII.
Her 'T' shaped cockpit with molded coamings which has already met with great success on the CD32, 330, 36 and 40. When you slide behind her pedestal wheel, you look forward to an unobstructed, low, modern profile, wide decks and rugged hardware.
Clive M. Dent, Chief Designer at Cape Dory Yachts, Inc., is her proud designer. Clive also designed the CD300 Motorsailer and is working on several other Cape Dory sail and power models.
The CD30MkII will be sloop rigged with a cutter rig available as an option. Clive designed the CD30MkII with a 4'6" draft for
excellent windward performance. A 22 horsepower diesel auxiliary provides substantial reserve power for docking or powering.
The CD30MkII . . . built with integrity in the Cape Dory tradition for lasting enjoyment and pride.

Excerpts from the 1987 owners manual (6.4 MB) which include drawings and schematics only. How about a look at a couple of brochures [1989 sales brochure (4.4 MB) and a page from the 1987 multi-product brochure (125 KB)]?
Newport Shipyards of Bristol, RI acquired the Cape Dory name and the molds for the Cape Dory motoryachts (except the 30-footer), the CD300 Motorsailer, and the CD30MKII, CD330, CD36 and custom CD40 sailboats around 1991. CLICK HERE to view the 1991 sales brochure from Newport Shipyards.
Text and specifications based on a Cape Dory brochure for the 1987 model year. Additional information is always welcome. Email webmaster@capedory.org.