Specifications: Cape Dory 28 Powerboats
Disclaimer: The CDSOA is a private voluntary social club. The CDSOA and this Web site are not associated with and do not represent Cape Dory Yachts, which is a division of Newport Shipyards Corp., nor any other yacht builder.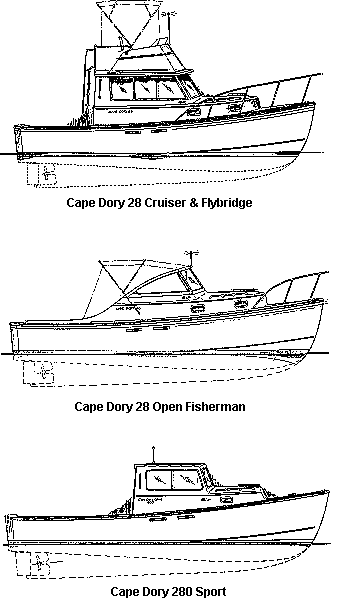 Specifications

L.O.D.:
27'11"
L.W.L..:
25' 11"
Beam:
9' 11"
Draft:
2' 11 "
Displacement
(approx.):
7,000 lbs. (Open)
6,500 lbs. (Sport)
8,000 lbs. (Cruiser)
Fuel:
120 gals. (Open)
76 gals. (Cruiser/FB)
Water:
40 - 45 gals.
Power:
275-hp. Chrysler V-8 gas
200-bhp Volvo turbodiesel
Hull type:
Semi-displacement
Rounded bilges
Cruising speed:
About 14 knots
Years Built
1984 - 1990
(Sport '86-'88)
Nr. Built
223
(Sport: 17)
The following enthusiastic descriptions are from a Cape Dory brochure:
We've called upon our experience building commercial fishing vessels and over 20 years of building quality sailing vessels to produce the Cape Dory 28 models. Starting with the incomparable seakeeping abilities of the downeast semi-displacement hull and adding a rich yachty interior has resulted in a truly remarkable power cruiser ... the Cape Dory 28.
Cape Dory/28 features a "full keel" and molded in skeg for exceptional directional stability plus adding full protection to the rudder and prop. The hull is comfortable at rest as well as streaming through a steep chop and when the weather threatens she has the speed to head for shore or the seaworthiness to ride it out.
The Cape Dory 28 is available in four models to suit almost any purposem whether it be a short-handed cruise up the Hudson ... or casting among the stripers off Cuttyhunk.
CD/28 Fly Bridge
CD/28 Cruiser
CD/28 Open Fisherman
CD/280 Sport
All are based on the same proven hull form ... the essence of all CD/28 models.
Cape Dory/28 Cruiser and Fly Bridge models combine comfort and simple elegance of a classic interior with a spacious cockpit and wide, surefooted decks. There is ample storage for all the gear and extras you'll need. Power options available on the Cruiser models will produce top speeds of 20 knots. The ultimate combination for cruising, sport fishing and entertaining.
Cape Dory/28 Cruiser
She was designed to maximize interior space, combining comfort and the simple elegance of a classic interior with spacious cockpit and wide, sure-footed decks. Cruising will be a pleasure with large, Comfortable berths for 4, a head with elbow room featuring a translucent overhead for lots of natural light and a galley located to keep anyone on galley duty in the heart of the cabin's activities. A comfortable setee with large opening windows for viewing what is going on out- side. The helm station offers excellent visibility with all controls within easy reach. The cockpit is large enough for lounging, fishing, swimming, or an evening cocktail party. CD/28 Cruiser built in the Cape Dory tradition for knowledgeable cruising people.
Cape Dory/28 Fly Bridge Cruiser
This model is the queen of our fleet. She has all the features of the CD/28 Cruiser plus a lofty fly bridge. Her bridge is solid with a comfortable bench seat, windshield and ample space for built-in electronics. CD/28 Fly Bridge ... built with integrity for years of enjoyment and pride.
Cape Dory/28 Open Fisherman

Designed with an uncluttered cockpit and flush engine hatch for great fishing action. After a long day on the water, slip into the foc'sle for a shower, hot meal and a great night's sleep. She features the same quality joiner work and accommodations below as the cruiser model. There is lots of room for tackle boxes and rods. If fishing is your game then this is the boat for you. Whether she be powered by a high-tech turbo charged diesel or a reliable Chrysler V-8, she'll whisk you away to the fishing grounds at 20 to 25 knots. CD/28 Open Fisherman ... built with integrity, a boat that can take it.
Cape Dory/280 Sport
Workboat tough. Built with the rugged no-nonsense construction of a commercial boat. Yet, she's as good a boat for running yacht club races as for hauling moorings around or chasing after the fleet on a blustery afternoon. Below you'll find a two burner stove; portable, built-in ice chest; sink; v-berth and enclosed head area ... functional and handy. On deck, you'll be taken with the spacious cockpit and wheelhouse. Unlike her work boat sisters, both sides of the wheelhouse are enclosed. Adding a canvas aft would keep out the chill on a November day or keep her dry during an August Nor'easter. The CD/280 Sport - economic ruggedness, but through and through a Cape Dory.

Cape Dory/28's are built by the New England craftsmen of Cape Dory Yachts. Each vessel is hand crafted with special attention to joiner work and details that combine to produce a well-built boat with timeless good looks.
Cape Dory/28 - built with integrity in the Cape Dory tradition for years of enjoyment and pride. A vessel that will retain its value for years to come.

Looking for more information regarding the Cape Dory 28 power yachts? Visit CapeDory28.info.
Download an owners manual. Take a look at the 1986 sales brochure (PDF, 1.8 MB) for the CD28 product line.
Newport Shipyards of Bristol, RI acquired the Cape Dory name and the molds for the Cape Dory motoryachts (except the 30-footer), the CD300 Motorsailer, and the CD30MKII, CD330, CD36 and custom CD40 sailboats around 1991. CLICK HERE to view the 1991 sales brochure from Newport Shipyards.

Last modified March 23, 1997. Text and specifications based on a 1986 Cape Dory brochure. Additional information is always welcome. Email webmaster@capedory.org.