Specifications: Cape 30
Disclaimer: The CDSOA is a private voluntary social club. The CDSOA and this Web site are not associated with and do not represent Cape Dory Yachts, which is a division of Newport Shipyards Corp., nor any other yacht builder.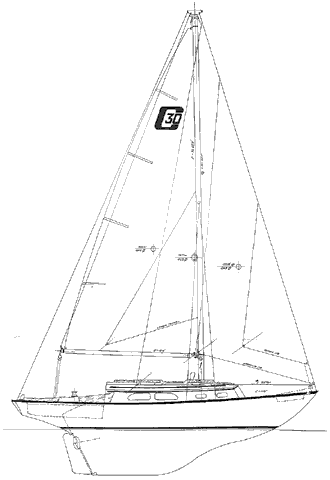 Specifications

| | |
| --- | --- |
| L.O.A.: | 30' |
| L.W.L.: | 20' 2" |
| Beam: | 9' 2 1/2" |
| Draft: | 4' 5 1'2" |
| Displacement: | 9350 lbs. |
| Ballast: | 3300 lbs |
| Sail Area: | 409 sq. ft. |
| Mast Height: | |
| Designer: | Ted Hood |
| Years Built | 1972 - ???? |
| Nr. Built | 6 |
Cape Dory Co., Inc. of West Bridgewater, Massachusetts announces the debut of the new Hood designed "Cape 30". Cape Dory now builds a ten-foot and a fourteen-foot sailing and rowing dory as well as the beautifully crafted Alberg "Typhoon" eighteen-foot keel boat, all "one design" boats. The "30" is a natural step in the development of this line of boats, and although she should do very well in the performance department, she has been designed and prototyped to appeal to the quality minded cruising man and his family.
More than just lip service is being paid to the word "quality" by Cape Dory. You just won't find fine details on stock thirty footers such as you'll find on this boat. For example, on deck there are, integrated into a central raised molding running fore and aft, two teak and plexiglass hatches. One serves the forward compartment and the other is located for good lighting and ventilation over the main cabin. There are also integral dorade boxes and winch handle or deck gear boxes set on either side of the mast and both the sea hood and companionway hatch are laid teak planking. This planking construction is also found in the four cockpit seat hatches. Coamings, engine ventilator boxes and toe rails are also teak, and the owner may have all his on-deck woodwork finished bright as an option.
All hardware is of top quality plated bronze, anodized aluminum or stainless steel, and standard equipment includes lifelines, bow pulpit, stern rail, genoa gear, halyard winches, headsail winches, roller reefing, main sheet traveler, four P.V.C. ventilators, and for the man who finds anchor storage a real nuisance, there is a molded-in recess for a Danforth 12HT in the foredeck which is covered by a flush-hinged cover. Of course, slippery deck areas are treated with a molded-in, fine textured, non-skid pattern in contrasting colors.
Down below there is a galley aft with convertible dinette to port and a settee berth to starboard, which really makes the best conversational seating arrangement. The toilet compartment is located between the main cabin and the forward cabin, which sleeps two in a conventional vee berth.
There are some very convenient features in this arrangement which should be noted. First, to eliminate the necessity of stowing wet foul weather gear with dry "going ashore" clothing, the hanging locker box located just to port of the companionway ladder is separated by a partition. The inboard wet locker is open faced and is intended for stowage of "oilies", sea boots, etc. The outboard locker door, which faces forward, closes off the dry clothes locker from the dinette area. A nice touch is the generous chart drawer located in the upper section of this locker unit. The flat four-foot square counter atop this unit is a most convenient location for electronics and navigation gear.

The head arrangement warrants mention. For those who insist upon washing facilities in the head, there is a convenient slide-out head counter unit which houses a sink and pump. This optional unit slides outboard and out of the way when not in use.
Lots of top grade wood coupled with beautiful joinerwork details make this as close to a "no compromise" stock boat as you'll find on the market. Naturally, all hardware below is plated and work surfaces and countertops are covered with Formica.
The same high quality molding techniques that Cape Dory is noted for will be used in the construction. The Cape 30, ballasted with 3300 pounds of inside lead and driven by about 400 square feet of sail, should give lively performance and a nice turn of speed.


Haven't see a Cape 30? Check out this 1972 Motor Boating & Sailing article on the Cape 30 featuring "Zorba" and the original Cape 30 sales brochure.
Text and specifications based on a Cape Dory brochure dated some time in 1972. Additional information is always welcome. Email webmaster@capedory.org.